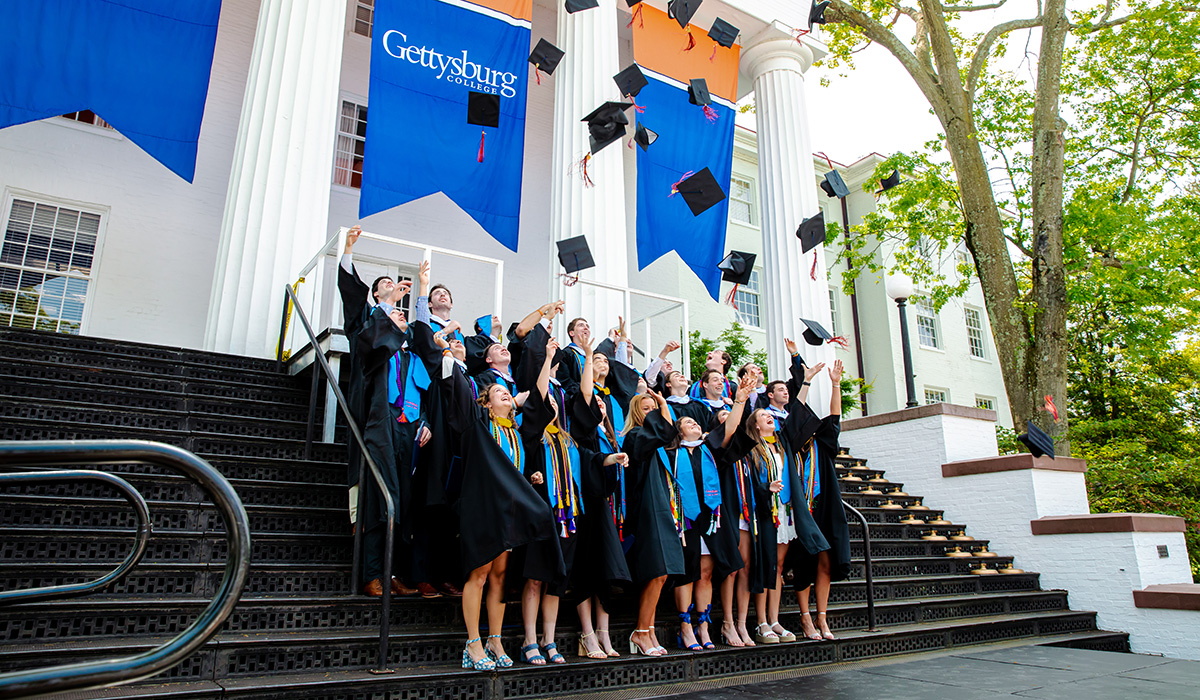 Over the last four years, the men's and women's lacrosse seniors have battled challenges and overcome a range of obstacles on and off the field together as teammates at Gettysburg College. Their perseverance, adaptation, and hard work have paved the way for another run into the postseason and the opportunity to be among the first of their classmates to graduate as part of a Special Commencement Ceremony held inside the CUB Ballroom on May 11.
"Special Commencement is always one of my favorite traditions of the year," said President Bob Iuliano to the Class of 2023 graduates. "Not only because it gives us as a College the opportunity to celebrate all that you have accomplished during your time on campus, but perhaps even more so, because it gives all those in attendance the opportunity to witness firsthand what has made your two teams so successful: the way you celebrate one another; the way you uplift one another; and the way you support and care for one another, as friends and as teammates."
This year's Special Commencement Ceremony honored 26 graduates, the most since the tradition started 18 years ago: Nora Belodeau '23, Kaitlyn Bergen '23, Gabi Connor '23, Katie Fullowan '23, Kayla Lundberg '23, Kelly O'Conner '23, Essie Pasternak '23 and Shannon Twill '23, from women's lacrosse; and Billy Banfield '23, Connor Devine '23, Mike Feuer '23, Joey Fox '23, Brett Ginac '23, Declan Harrigan '23, Kyle Howard '23, Zack Kinsella '23, Conner Koch '23, Ian McAnally '23, Jonathan Moshe '23, Zack Puckhaber '23, George Raymond '23, Kieran Ward '23, McCain Wnek '23, Aidan Wykoff '23, Dominic Yorio '23, and Michael Zima '23 from men's lacrosse.
"As you go out into the world today, be someone who helps those around you to dream and achieve. Fill them with hope, inspiration, and strength, and be there as sons and daughters, life partners, friends, colleagues, and teammates forever."
– President Bob Iuliano to the Class of 2023 lacrosse graduates
Calling each of the graduates by name, Iuliano asked them to stand, allowing the assembled gathering of family, friends, faculty, and staff inside the Ballroom to recognize their achievements.
With all their teammates in attendance, Iuliano emphasized the value of teamwork, in addition to the importance of mentorship, referencing a prime example in the four decade-long career of former head athletic trainer Gareth "Lefty" Biser '57. Working alongside his staff, Biser helped student-athletes realize their goals, including those of current Director of Athletic Medicine and Sports Performance Mike Cantele '88. Biser, like any great teammate, uplifted his students and was there for them when needed.

"Class of 2023, you have spent the last four years cultivating these skills both on and off the field—and I can see these same qualities in you," said Iuliano. "Remember, we never stop growing as teammates or as people."
Watch the Class of 2023 Special Commencement
The ceremony also featured congratulatory remarks from Provost Chris Zappe and Political Science Chair Caroline Hartzell. Hartzell, who served as the faculty speaker, noted how learning goes both ways, and while the graduates were absorbing information from their professors, they were also imparting their own knowledge on those mentoring and supporting them throughout their time on campus, including family, coaches, faculty, friends, and staff.

"I know a lot of people have spent time teaching you a variety of subjects, skills, and life lessons during your time at Gettysburg College, including those folks whom I just mentioned as part of your support network during your time here," said Hartzell. "What I want to focus on today is something you may not have ever given much thought to—the lessons you've taught others while you've been here at Gettysburg College."
Hartzell then shared what she has learned from the Class of 2023, recognizing their abilities to persevere, adapt, and lean on the Gettysburg community—traits that helped the new graduates maneuver through a socially distant world during the COVID-19 pandemic. When they returned to campus with a renewed vigor, they embraced all the opportunities presented to them as academics and athletes, magnifying their desire for lifelong learning while continuing to embrace change, together.
"Finally, you have obviously taught me—and everyone else in this room—a lot about teamwork, the ability to commit to something bigger than yourselves, and tenacity," said Hartzell. "As an educator, parent, and human being, the lessons I've learned from you make me feel more optimistic about the future."
To close the ceremony, Iuliano charged the lacrosse graduates to lead lives of consequence beyond Gettysburg.
"As you go out into the world today, be someone who helps those around you to dream and achieve," said Iuliano. "Fill them with hope, inspiration, and strength, and be there as sons and daughters, life partners, friends, colleagues, and teammates forever."
Both teams will compete in the opening rounds of the NCAA Division III Championships this weekend. The men open the postseason against the University of Scranton at Christopher Newport University on Friday at 7 p.m. A victory would advance them to the third round on Saturday to face the winner of the host Captains and Hope College game. On Sunday at 2 p.m., the women will begin their playoff run at home on Clark Field, where they will face the winner of Christopher Newport and Johnson and Wales University.
By Corey Jewart
Photos by Abbey Frisco
Posted: 05/12/23